Keeping yourself fit doesn't have to be a daunting task. Why should you wait a long duration of time for your turn at the gym? With the right gym equipment, you can bring fitness right to your doorsteps. With the right equipment, you can create an affordable and safe workout zone in the comfort of your own home. Our list of affordable "Home Gym Equipment", Can help you do that right now!
What Should you Look for in a Home Based Gym?
There are three factors you should consider before investing in "home gym equipment". If you wish to build your dream home gym for a fit body then following these three factors will be your best option.
Cost – What is your home Gym Budget? Pick up your calculator and figure out the amount you can spend on building your home based gym. As long as you do not break the 50 30 20 rule when planning, you should be on the right track. Equipments based on their functions can cost up to thousands of rupees.
Space – Obviously no one knows your home better than you do! How much space you can make for your desired home based gym? Do you have a small room? If yes, then you would need instruments that can fold or consume very little space. If you have a huge home then you can fit in heavy gym equipment.
Function – What do you desire to get out of your home gym equipment? Are you just looking to lose fat or do you wish to look like one of those jacked-up models we see on our TV screens? What you do with your home based gym decides how your home gym equipment would look like.
5 Must Have Gym Equipments For Home
1. GOLD FITNESS Home Gym Equipment Combo 50 Kg with 8 in 1 Multipurpose Bench
No home gym can be complete without a weights and benches to exercise on. The Gold Fitness Home Gym equipment Combo is your best bet in terms of getting a intense full body workout at home! The home Gym equipment combo features 50Kg weights multipurpose bench and multiple rods for full body workout.
Package Contains : 50 Kg of PVC weight (10 Kg x 2 = 20 Kg + 5 Kg x 4 = 20 Kg + 2.5 Kg x 4 = 10 Kg )+ 1 x 3 ft Curl Bar+ 1 x 5 Feet Straight Bar (Capacity of Bar for weight lifting up to 160 Kg ) + 2 x 14 inch Iron dumbbell Rods With Bolts + 1 Pair Pure leather gloves + 1 skipping rope + 4 Spring locks(it can't come out when you lift the weight) + 1 Assemble tools Provide +Basic Exercise Guidelines Provided with this combo.
Technical Details
Brand: GOLD FITNESS
Color: black n blue
Weight: 50 Kilograms
Size: 2X2
2. Ozoy Six Pack Ab Exerciser Machine
What's better than a pair of rock hard abs. ALL-IN-ONE Upper Body Training: Wonder Core II is the combination of a sit-up bench and a rowing machine. It targets the stubborn core along with chest, arms, back and most upper body muscle groups. The egronomic design keep you safe during workout so that you don't stretch your muscles while building the pack of abs you've always desired
The Ozoy Six Pack Ab Exerciser machine is a Multi-Function Workout Equipment that is portable exercise machine that gives you abdominal muscles.Choose one of 22 different exercises to train your abs and trapezius muscles and build stronger hips, thighs, feet, arms, without proud flesh.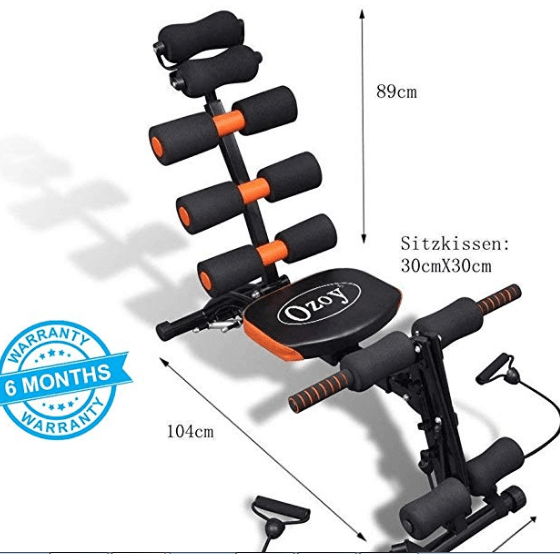 Technical Details
Brand: Ozoy
Color: Black.
Size: Large
3. Lifeline 4 in 1 Deluxe Manual Treadmill
No home based gym equipment is complete without a Treadmill. The Lifeline 4 in 1 Deluxe Manual Treadmill is your best bet for having a home gym. It comes under an affordable price range, also it is foldable so it can save a lot of space as well. What more can you ask for? That's not all, it comes pre-euipped with a twister to help you burn fat on your thighs and an incline for basic weight exercise. You also get a monitor which keeps a track of your movement and workout cycle.
So what are you waiting for? Build your dream home based gym with just the right equipment. Order now and start your journey towards the body you've always wanted.
Technical Details
Batteries Included: No
Brand: Lifeline
Display-Type: No Display
Length: 120 Centimeters
Width: 30 Centimeters
Weight: 47 Kilograms
Material-Type: other
4. Sports Hub 1448 USI High Bounce Rubber Medicine Ball Multicolour, 3 Kg
A medicine ball is must if you are looking to build your own home gym. It is great for both pre and post workout stretching sessions. If you have low flexibility then a Medicine ball will help you in getting your body back in shape.
The Sports Hub High bounce Medicine ball comes in different colors and weights. You can choose the ball that suits you well. It help you maintain your posture all the while increasing your strength. Regular training with a medicine ball can help you increase your strength for lifting more weights.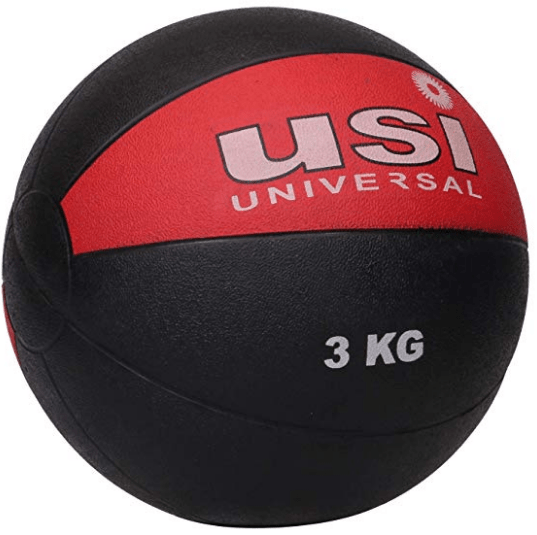 Technical Details
Batteries Included: No
Brand: Sports Hub 1448
Color: Multi
Weight: 3 Kilograms
Size: Standard
5. Bowflex SelectTech 552 Adjustable Dumbbells (Pair)
You can't even dream of building your Home based gym without a pair of dumbbells. Dumbbells are the perfect equipment for weighted training. The BowFlex SlelectTech aren't your ordinary pair of dumbbells. You can adjust the weight according to your preference wit just the turn of a dial.
Each dumbbell in the pair adjusts from 2.37 kg to 23.82 Kg, giving your the perfect range of weights. You can change weight by just changing a dial. This saves you time and also space if you don't have a large space fro a dumbbell rack and multiple dumbbells.
Technical Details
Brand: Bowflex
Color: Black
Hand Orientation: Left and Right
Length: 24 Inches
Width: 23 Inches
Height: 14 Inches
Weight: 55.8 Kilograms
Material-Type: Steel
Size: 24
Get it on Amazon Today