---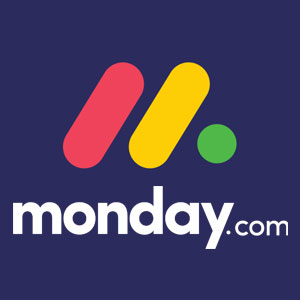 In the market for brand new project management software? Monday.com can be the next software that you should choose. It's an incredible tool as it offers versatility, scalability, readability, and an affordable price tag. When you compare Monday.com with other project management software in the industry, it comes on the top most of the time.
We've created this perfect Monday.com project management review so you can decide for yourself if you want it or not.
| | |
| --- | --- |
| It prioritizes people management | It makes collaboration simpler |
| It comes with an intuitive user interface | Comes with reporting and analytics |
| Lets you manage workloads | It provides excellent support |
Monday.com provides great results when you compare it with other top project management software. More than just offering a huge range of use cases, the software offers great functionality.
It comes with great collaboration features, timeline views, calendar management, and time tracking, and it can be integrated with other tools. Project management software Monday is perfect, regardless of what kind of work you do. It doesn't matter if you're a freelancer, an organization, or someone in between, the versatility offered by the tool is perfect.
To make our project management software Monday review, we compared it side by side with some other industry's best project management tools. In almost all the categories, Monday.com comes out on top.
While it is a great tool, it isn't perfect for every business.
Project Management Software Monday Review: The Good and The Bad
Monday.com is like any other software management tool, it has its share of pros and cons. So, make sure that you read it carefully before you make a decision. Although, the good things about the software outweigh the wrong things.
1. Multiple Project Visualization
Monday.com provides you with all the features you need to keep track of your project. You can visualize all your projects as per your preference. This includes kanban time tracking, Gantt, and Calendar views in a single click. Regardless of how you want to view your projects, Monday.com has got you sorted. All you need to do is click here and there and you can access the projects. It offers custom views, including complete custom views, where you get access to all the data and information you need.
2. Built-In Time Tracker
Monday.com is one of the very rare tools available in the market that offers a built-in time-tracking feature. Most project management tools offer time tracking as an add-on feature. So, you're getting it completely free so that's a great deal.
With the combined features of project management and time tracking capabilities, you can get a better understanding of how much time individual tasks take. You can divide tasks in your team based on how much time they take. And all because of Monday.com automation features, you can get rid of small repetitive tasks that consume time.
3. Strong Integrations
It's incredibly easy to integrate Monday.com with other business tools. Moreover, it gives your project management process a much-needed boost. With integrations, you can get through tasks in no time at all. With the right integrations, all your needs are fulfilled within a single platform.
You can build workflow automation to get rid of repetitive actions that consume time. Monday's project management software smoothly syncs up with almost everything you need. Including:
Slack
Dropbox
Zoom
Shopify
Google Calendar
Gmail
Todoist
And 40+ other tools
4. Customizable Templates
Establishing the right process and making sure your project management software works according to your needs can be time-consuming. Fortunately, Monday.com makes that process easy for its users.
The endless list of customizable templates saves time and makes it super easy for you to get started. You can choose the type of template based on your preferences:
Portfolio tracking
Team tasks
Campaign planning
Contact management
Customer onboarding
Help desk tickets
PMO project planning
Product roadmaps
It doesn't matter if you're managing a single project or multiple projects, Monday.com accommodates all your needs.
5. Custom Automations
Small repetitive tasks eat up a lot of your precious time. You can't keep on adding human resources to handle the tasks. And this is why most businesses choose project management software. Monday.com helps with that as well, but it takes things a step further by providing custom automation.
In just a few clicks, you can automate one task and move on to another. You can assign tasks to a team member and then quickly move to the next one. It helps in saving a lot of time for businesses, and you can prevent yourself from manually processing these tasks. The automation builder is highly intuitive, even first-time users can use it.
6. Easy to Use
Regardless of how many features a software offers, it's worthless if users can't use it. Monday.com is one of the easiest project management software that you can use. In less than an hour, your team will understand every single feature of the software.
There's a huge knowledge base that you can use if you run into any problems. Troubleshooting is more than easy. And if you do face some kind of problem, customer support is available via live chat 24/7.
7. Incredible Dashboard
Another thing that makes Monday Project Management software worth using is the dashboard. It doesn't matter if you're a decision-maker or a manager, the dashboard makes it super easy to keep track of things. Monday.com dashboard comes with a wide range of features built to help decision-makers and managers.
Dashboards are customizable and they provide instant access to all the crucial data. If you want to get insights into all your projects, then you can customize your dashboards with 15 pre-built widgets.
That's not all, users can even create private or public dashboards, based on who they want to share the data.
1. Limited Task Reliance
All great project management software needs to have task dependencies. But Monday.com's task dependencies are limited compared to its counterparts. The only way to use them is with dates, which makes their application less than ideal.
This basic functionality makes sure that all the tasks are done in the right way, and you can't customize the functionality on Monday.com.
Also, task dependencies are only available on the top two plans, so they're inaccessible to small businesses.
2. Feature Limitations on Lower Plans
Monday.com has a lot of plans to choose from, and all of them offer different levels of functionalities. But during our Monday project management review, we felt that lower-level plans have limited features.
If you want Gantt charts and calendar views, then you won't be able to get them on the entry-level plan. Some other features that aren't available on the cheapest plans include:
Time tracking
Private boards
Automation
Task dependencies
Formulas
And integrations
When you compare Monday.com's plans with other tools plans, then these features are present on entry-level plans.
If you want to experience the complete features of Monday, you'll need to upgrade to high-end plans.
3. Slow Support
While Monday.com is an incredibly easy-to-use tool, some users have shown concern regarding slow customer support response times. Even though the customer support team is available around the clock. According to the website, Monday's support reps will reply in less than an hour.
Unfortunately, there's no live chat option available for users who want a faster response time. Waiting for an hour for a response is almost impossible for almost an hour.
| | |
| --- | --- |
| Plan | Cost |
| Basic | $24/mo (billed annually) |
| Standard | $30/mo (billed annually) |
| Pro | $48/mo (billed annually) |
| Enterprise | Contact the company for a quote |
Monday.com offers a package for all kinds of businesses and for all kinds of project management needs. Monday offers four different plans that users can choose from, Basic, Standard, Pro, and Enterprise.
Generally speaking, Monday.com is an affordable option compared to its counterparts. Most project management tools on the market plan with entry-level plans and pricing starting above $20. Monday.com offers the same pricing range.
If you want to get the best discounts on all the plans, you'll need to sign up for annual billing. If you go with annual billing, then you can save almost 20% on all plans. It doesn't matter how big your project management needs are, Monday.com has a plan that suits all kinds of needs.
Before you choose a plan, you should have a clear understanding of all the features offered in each plan.
Here's a basic breakdown of all the plans:
1. Monday.com Basic
Monday Basic is the cheapest project management tool. It's the perfect plan for smaller teams that want to streamline projects.
All you need to pay is $8 per month (billed annually). It's a really cheap option, and you get unlimited boards and over 200 templates. You'll also get unlimited free viewers and users with read-only access. This allows you to show your data to as many people as you want.
The Basic package allows you to create a dashboard based on one board. But dashboards are better if you can gather information from multiple boards.
You get whiteboard collaboration, embedded documents, shareable forms, custom notifications, and more with this plan. Unfortunately, it doesn't support any integrations.
While it's a good plan, the Basic plan is more of a teaser and pushes customers forward to buy better plans.
2. Monday.com Standard
The Standard plan is Monday.com's most selling plan. It comes with additional tools and features to help users manage projects. When you choose the Standard plan, you'll get the benefit of timeline views, Gantt chart views, and Calendar views.
The package also supports third-party integrations with up to 250 actions per month and automation.
Monday.com Standard allows users to create a custom dashboard by combining data from 5 different boards.
This plan offered by Monday.com is perfect for bigger teams who require higher-end integrations and automation.
3. Monday.com Pro
Monday.com Pro is a great option for huge teams or anyone that needs to manage complex workflows. When it comes to automation and integrations, this plan is far less limiting.
You get 25,000 actions per month for automation and integrations. Most businesses won't even come anywhere close to consuming near that number. This plan is definitely an upgrade from the 250 in the standard package.
The Pro plan offers a chat view as well. With charts, you can see all the details related to the analytics of the workflow. Charts show project managers and executives how team members perform, and how quickly tasks are being accomplished.
It's a great way to manage projects at a higher level using deeper insights. Another reason to choose the Pro plan is that it helps in managing your team's workload with better precision.
The Pro package offers private board functionality as well. These are only visible to managers and team members that are invited. You can add board administrators, too, which you can't do with Basic or standard plans.
The Pro plan supports unlimited guests and maintains an activity log for one year. Overall, it's also the best plan for most businesses, and it's the one that you can recommend with the most confidence.
The plan costs $16 per user per month (billed annually), and it offers great value.
4. Monday.com Enterprise
As the name implies, Monday.com Enterprise is built for bigger organizations with extremely complex needs. In the plan, you get enterprise-level integrations, and automation, as well as enterprise-level security.
The software supports multi-level permissions, advanced reporting, and high-end analytics as well. With an enterprise subscription, you can create a dashboard combining data with up to 50 dashboards.
Monthly actions limits for integrations and automation in this plan are 250,000. Businesses will benefit from a tailored onboarding experience. You'll be assigned to a dedicated customer manager and Monday's 99.99 uptime.
If you want some other alternatives to Monday project management software, then here's our pick:
| | | |
| --- | --- | --- |
| Brand Name | Overview | Rating |
| ClickUp | Best project management software for most users | 3.9/5 |
| Asana | Offers the most balanced power and simplicity | 4.2/5 |
| Trello | Lowest costing project management software today | 4.3/5 |
| Teamwork | Best for client and service-based businesses | 3.7/5 |
| SmartSheet | Best for converting spreadsheets into project management | 3.5/5 |
Conclusion – Monday.Com Project Management Tools Review
| | |
| --- | --- |
| Specifications | Yes/No |
| Document Library | No |
| Live Chat | No |
| Chatbot/Conversational AI | No |
| Multi-currency Support | No |
| Pipeline Management | Yes |
| Integrated Email Marketing | No |
| Analytics | No |
| Custom Dashboards | No |
| Email Routing | No |
| Rest API | Yes |
| Phone Support | Yes |
| User Forums | No |
Monday's project management tool is the best if you're looking for a versatile tool. It's one of the most well-known project management options available in the market today, and we recommend it for all types of businesses. Between all the affordable plans and robust features, you won't be able to find a better plan. If you don't want to shell out money right away, then you can get a 14-day trial.
Overall Rating

SUMMARY