The birth of the Internet is still considered a massive step towards human evolution. And rightly so. The Internet has helped millions with the information & data they strive for. Over time, it has also faded the lines between the mediums of information, whether it is Audio, Video, or Text.
While each of these mediums has found its dedicated platforms, there is a lot of skepticism around which one has the most effect on the audience. And there is one simple question that will help you determine which medium to choose.
Is your target audience primarily viewers or listeners?
We are all spoilt by choices with respect to types of content.
But these choices are often influenced by prevailing trends. And if you are an aspiring content creator looking for a breakthrough, the term "Vodcasting" may not be alien to you.
Vodcasting vs. Podcasting
You must be familiar with the term Podcasting. The last few years have been monumental for the podcasting industry in terms of growth and reaching the masses. Even the COVID-19 situation couldn't curb the massive rise in demand for podcasts around the world.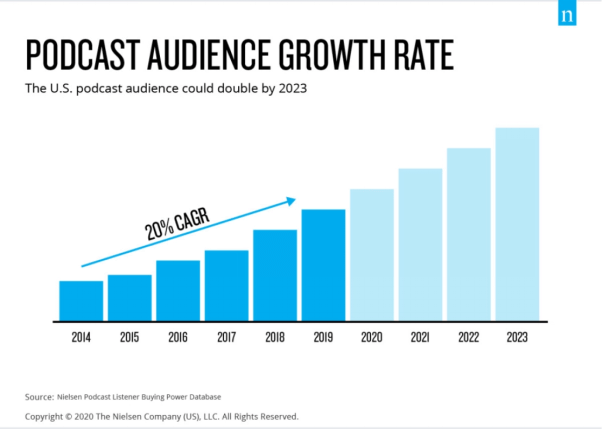 But as one thing rises, there is always competition waiting for it on the other end. For Podcast, it was a Vodcast that would be its arch-nemesis. In a head-to-head comparison., some clear and obscure facts separate these two.
1. Engagement
Vodcasting is a much more complex process when compared to Podcasting, but stats suggest that a vodcast can significantly engage your audience for a larger period. And here is an article that supports our case.
2. Visually Appealing
One thing that falls in the favor of vodcasters is the video appeal. Having an extra weapon in your arsenal is always useful, and allowing your audience to visually engage can be a huge plus when you consider long term growth,
3. Better Sponsors
Once you have built a certain audience with healthy engagement, you will start to monetize your channel. And you cannot beat vodcast in terms of attracting better sponsors and advertising partners. There is a clear reason behind it, that vodcast provides a much better opportunity for them to showcase their product/service.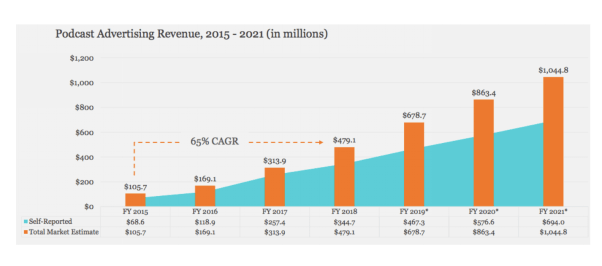 4. Uninhibited
When you do a head-to-head comparison of Podcast and vodcast, you will notice that in vodcasting, there are plenty of opportunities to try out new things. You can experiment with different locations, new themes, and even live conference guests from around the globe.
5. Brand Value
When you are a one-man army, it is really important to drive a certain brand value whilst creating content. And if your audience is seeing you on a visual platform, you will have a much better shot at building a greater brand value.
The Trend of Vodcasting
As a content creator, you must be crystal clear about the source of your content and the trends that are floating around in the market. According to market pundits, the viewership is already moving towards a visually presented podcast or simply said, Vodcast.
We already mentioned why vodcasting is superior to podcasting. However, there are also a lot of other factors that are driving this trend.
The graph mentioned below represents how different types of audiences are funneled from multiple platforms. While Rookies and young viewers are often siphoned from video ads and posts from social media, veterans or active listeners are equally distributed on all three,
Right now, there are only a handful of platforms that support vodcasting. A huge chunk of the market is still dominated by the OG's of Podcasting like Spotify, Pandora, and Apple Music.
But with changing times, all of these platforms are becoming capable of handling both video/audio casting. Spotify is already set to launch its brand new feature where you can upload a video podcast for your viewers. And you already have Youtube Music, which is the second-best streaming platform in Europe and Asia.
How to Vodcast?
With , a lot of podcasters are already preparing to and start vodcasting. And it's probably a smart thing to do so.
As mentioned above, the process of making a Vodcast is a lot different when compared to a podcast. Firstly, you need to make some investment in terms of camera equipment and presentability. Then comes the editing part. Video podcasts take a significant amount of time in editing, and it is something that you learn over time.
So initially, we would suggest you an all-in-one software that can cut your tasks in half. Boomcaster is one of the best software in the market in terms of providing a variety of exclusive features like Glitch-Free Recording, Custom Sessions, and Excellent Studio Quality at modest rates.
We would highly recommend checking this software out if you are an aspiring podcaster/vodcaster or even a veteran in the field.
There is no doubt Vocasting is the future, and we've probably mentioned all the facts, case studies, and stats to support our case. So if you are a regular Podcaster who is looking to shift into Vodcasting, there is no better time to do so.