Roller coasters are among the most popular rides at theme parks around the world. Whether you are an adrenaline junkie or someone being dared to try new things, experiencing a truly terrifying roller coaster can be life-changing.
Even an average-sized roller coaster may seem scary if you have never been on one. Those who have a lot of experience with roller coasters, however, will tell you that eventually, you need to ride the truly terrifying ones to get that adrenaline rush you are seeking.
There are many incredible roller coasters in different cities, and we have put together a list of the most exciting. Below are the top five craziest roller coasters that you can experience anywhere in the world.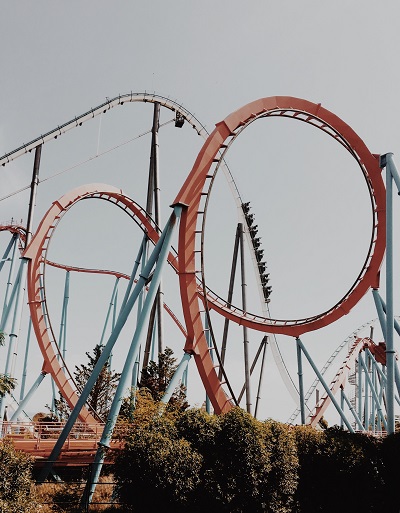 1. Space Mountain
Disney's famous indoor roller coaster, Space Mountain, is a life-changing experience. Experiencing this indoor roller coaster in California, Florida, Tokyo, Paris, or Hong Kong is sure to make your day.
The ride goes at a maximum speed of 28 miles per hour, which may not be the fastest compared to some other roller coasters on this list, but it does feel like a very rapid experience. The indoor setting, with the unique asteroids, spaceships, and other objects you see in your line of vision, sets Space Mountain apart from other roller coasters. You are not only along for a very fast and bumpy ride, but you feel as though you are exploring an entirely different world.
2. Millennium Force
Situated at the Cedar Point Amusement Park in Ohio, Millennium Force is one of the most iconic roller coasters on the planet. The coaster first came into operation in 2000, hence the name, and is perfect for thrill-seekers and roller coaster enthusiasts alike.
With a maximum height of 310 feet and high speeds of up to 90 miles per hour, your heart is likely to pound the entire time you are on this ride. There was a time when the Millennium Force was the tallest roller coaster on the planet. Even though it eventually lost that title, it is still one of the most terrifying and incredible rides you can take.
3. Steel Dragon
A Japanese roller coaster located at Nagashima Spa Land, Steel Dragon, opened a few months after Millennium Force in 2000. The ride swiftly became the tallest in the world and gave riders an experience they were never going to forget for the rest of their lives.
Steel Dragon is a four-minute journey that goes up to 95 miles per hour while reaching heights you would never have thought possible on an amusement park ride. Be warned, Steel Dragon is not for the faint of heart, as the ride may feel terrifying to someone who has never been on a large roller coaster before in their life.
4. Superman Escape from Krypton
With the Superman logo on the outside, along with the stylistic ice structures that fans have come to expect from the fictional hero's home planet of Krypton, this ride is a once-in-a-lifetime experience that you do not want to pass up.
Situated at the Six Flags Magic Mountain amusement park in California, Superman Escape from Krypton takes you up a 41-story tower in less than ten seconds at a speed of 100 miles per hour. Eventually, you are dropped 415 feet along a 90-degree angle, which may be the most terrifying experience most people have in their lives.
There is a brief moment where you feel weightless, stuck up in the air before you dramatically fall down towards the ground at more than 90 miles per hour.
5. Formula Rossa
With the word Formula in the title and its location at Ferrari World Park, roller coaster enthusiasts may already have an idea about what they are set to experience with Formula Rossa. Even though the roller coaster does not have any major inversions, and its height is not as great as some other rides on this list, it does reach a top speed that no other roller coaster can match.
Formula Rossa reaches a stunning top speed of 149 miles per hour, which is why riders are asked to wear safety goggles before they strap themselves in for the ride. If you want incredible speed and stunning visuals from a roller coaster, then you must visit Ferrari World Park in Abu Dhabi and ride the Formula Rossa roller coaster.
Spice Up Your Next Vacation
The average roller coaster does not hold a candle to some of the rides we have listed above. These are top-tier roller coasters that you will not find at a standard theme park or winter carnival.
If you want to have a great time on your next vacation, and you love roller coasters, then visiting one of the locations we have highlighted above is a great idea. You can experience a new city, make great memories, and ride one of the largest and most impressive roller coasters in the world. Add a bit of adventure and excitement to your next vacation by riding a terrifying and thrilling roller coaster.